GENERAL GATEWAY PROBLEMS

WHICH INTERNET SERVICE PROVIDER (ISP) ARE YOU USING?
The Gateway service has been tested from a wide range of different ISPs. Although it works with the vast majority of them, there are one or two ISPs who "filter" their web traffic in some way which prevents access to Gateway.

WHICH WEB BROWSER ARE YOU USING?
You must use Microsoft Internet Explorer (version 6.0 or higher) to access the Gateway service. Other web browsers such as Mozilla Firefox, Netscape or Opera may work, but not provide the same functionality.

ARE YOU USING ANY OTHER INTERNET SOFTWARE?
We recommend that you close down any other programs which might affect your Internet connection when using the Gateway. Programs which supposedly speed up web surfing can interfere with the authentication methods used by the Gateway service. Programs which block pop-up advertisements will prevent some windows from opening when using e-mail via Gateway.

ACCESSING THE GATEWAY IS VERY SLOW
Yes, it is. Unless you're lucky enough to have a broadband Internet connection (such as NTL cable or ADSL), you'll probably find that accessing your College files is extremely slow. Accessing large attachments via the Gateway service is not really recommended if you are using a modem.
PASSWORD RELATED PROBLEMS

HOW TO FILL IN THE PASSWORD DIALOG BOXES
Usually there are only two boxes to fill in when you are asked for your user details, type "OLDHAM" and a backslash symbol in front of your login name (e.g. OLDHAM\AD1234 or OLDHAM\123456). Note that the backslash symbol is the one near the letter 'Z' on the keyboard.

WHAT IF THERE ARE THREE BOXES TO FILL IN?
If there are three boxes to fill in (username, password and domain). You need to put your network user ID in the top box and your current College password in the middle box. You need to type put "OLDHAM" in the third box.

HAS YOUR PASSWORD EXPIRED?
Please make sure that you can log on successfully at College before trying from home. If you can't log on at College, ask your tutor to give you a new password. Members of staff having difficulty logging on should call in at the I.T. Support desk, room T207. Note that passwords will not be changed without proof of identity (i.e. not over the telephone).

IS YOUR WEB BROWSER REMEMBERING AN OLDER PASSWORD?
If you've recently changed your password at College, you might need to force Internet Explorer to forget your old password so that you can type in your new one.

To do this in Internet Explorer 6.0 go to the "Tools" menu in Internet Explorer, then choose "Internet Options", then choose "Content", then choose "AutoComplete" and then press the "Clear Passwords" button. Next time you visit the Gateway you'll be prompted to enter your new password.

To do this in Internet Explorer 7.0 go to the "Tools" menu in Internet Explorer, then choose "Internet Options", then choose "General", then choose "Browsing History" then "Delete" and then "Delete Passwords" button. Next time you visit the Gateway you'll be prompted to enter your new password.

WHY DO I HAVE TO ENTER MY PASSWORD SEVERAL TIMES?
You need to enter your password each time you visit a different gateway service. Normally this will be once when you first connect to the Gateway and once when you choose which service you wish to access. If you access several services, e.g. e-mail and OWLS then you'll be prompted for your password more than once.
ACCESSING HERITAGE LIBRARY SYSTEM FROM HOME

USING INTERNET EXPLORER
When logging into Heritage from outside the College network, eg from home, you will be asked to login as per the image below. You will need to enter oldham\"YourUsername" and your college password. This will give you personalised access to the library system.
<![if !vml]>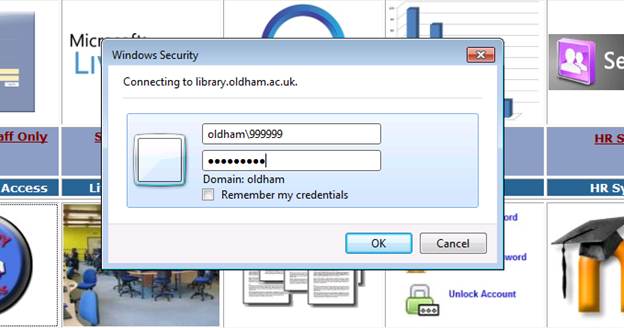 <![endif]>